MEDIA
'WOLF WOMAN BLUES' – TANYA PICHE BLUES BAND
REVIEWED: TREV TURLEY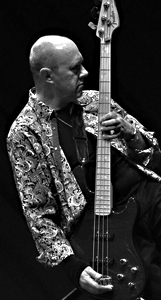 Again the Essex Delta spawns a self-styled Howlin' Wolf, this time female; Tanya and her band's debut album with big clues in the title. Lots of blues Howlin' Wolf style from an amazing voice and with a style difficult to pigeon hole. Often unparalleled comparisons are hard to draw, lyrics that swing from sung to almost spoken, a voice/timbre/style that is instantly recognisable. However, after repeated plays I'm feeling Jim Morrison in phrasing... panoply of styles, but Morrison, yes him, that's the closest to give reason to this female wolf of the blues.
For these ten self-penned songs; wholly an enjoyable, bluesy album. I like the use of added effects throughout, motor biking, howlin' and door slamming. The voice of Willie Dixon even appears and leads into 'Blues for Chester', a song that remains true to his form and style, lopping lazily along with some fine harmonica from bass player Nick Sherreard. With Nick there's drummer James Digings, who both provide the so solid engine room, faultless and true to the style and era they evoke. Then guitarist David Warne cements on top, a dark horse at times but shines with taste and often explosive fret work, always fluid and precise without over shining the reason they are all here; Tanya.
Pulsing version of 'Gotta Leave This Man', slide driven from David, who shines on 'I Said Please', evoking musically and emotionally, a lovely slow drawl through the Deep South. Blues as I'd expect from this band, pre smoking ban and a double shot on the bar! 'Big Joes Place' has a funky backbeat but still part blues. Then the Swing-o-Meter clock's in on 'Shady', shuffling and joyful. A very interesting take on 'I Put A Spell On You', angular and almost burlesque. Nice to see some risk taking; 'Spell' has a Brechtian flavour in vogue; incredibly strident, strutting; a clever interpretation. As the CD progresses the confidence and songwriting blossoms. I wonder if we are listening to a timeline of generation?
The last three tracks are corkers. 'Why' is a perfect last track, why? Tanya shines and evokes, plus The Tones of Warne, that's all I'm going to say, memorable. Buy it and find out.
Overall a pretty good mix of musical mayhem, from these well suited musicians. To the uninitiated some may be in awe of Tanya's voice, but can't fault her uniqueness, give it some time to permeate. A good starter for ten, gingerly starts but once mid-term momentum is reached, then yes, I like it.
5 STAR REVIEW FROM CHRIS WELCH!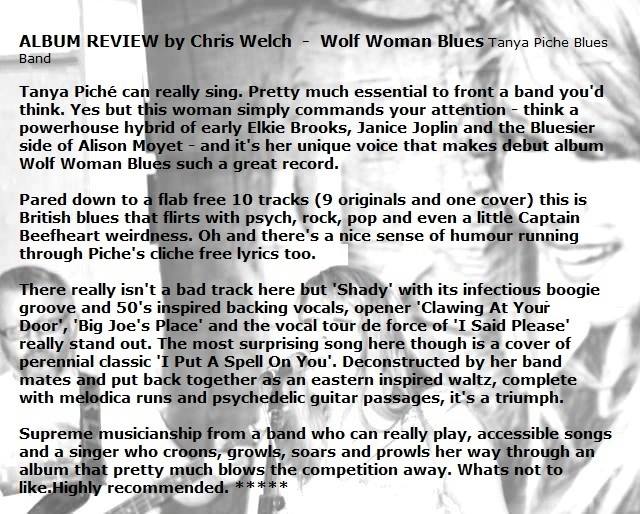 A great review from Phil The Music Quill!
Images taken from Full Review at Phil The Music Quill's Wordpress Site, where you can also see the relevant related links.
Click on each image below for a readable version (opens in new window).

The 411 Magazine, Article by Kelly Andrews
Click on each page for a readable image (opens in new window)
| | | | |
| --- | --- | --- | --- |
| | | | |
| Page 1 | Page 2 | Page 3 | Page 4 |